Posted by Kelly Brewster on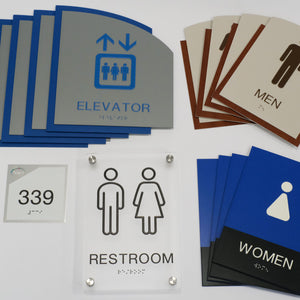 Your brand is a perception in the mind of your customers, clients, employees, etc.  It is what people imagine and feel when they think of your business or organization. ADA Signage is a huge part of a company's branding strategy and when designed the right way can help to build brand awareness.  Incorporating your logo within all your interior signage helps increase impressions and helps your audience to remember your business.   Presenting your brand consistently across all platforms can increase revenue by 23%.  (source www.smallbizgenius.net) Choosing the correct substrates for your interior ADA signs will also help reinforce your brand identity.  For example...
Posted by Kelly Brewster on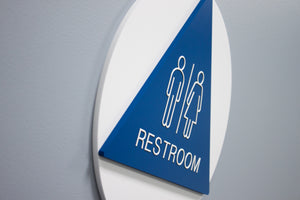 CALIFORNIA ADA RESTROOM SIGNS - HISTORY While the Federal ADA regulations require only on sign to identify an open public restroom, California requires two.  Their two-sign requirement came about because the State of California adopted Restroom Sign requirements prior to the American with Disability Act in 1991. The original California Restroom ADA signs, developed in March of 1970, consisted of two geometric shapes without any tactile pictograms, text or braille.  These signs were invented and developed by Dr. Sam Genensky.  He was seeing impaired and when working in Santa Monica, he had some awkward experiences looking for the correct restroom. ...